"Regarding the right to freedom of movement, the defendant is not a German and therefore does not have this basic right." (German Judge in a trial about Residentzpflicht, February 2013)
 Thousands of people, among them sambistas from Edinburgh, Vienna, Frankfurt, Kiel and Berlin supported the Refugee Revolution Demo on the 23rd of March in Berlin. No pink, no silver – these were plain clothed sambistas that mixed with the other protestors.
The demo happened 1 year after the on going refugee movement that kicked off with several protests camps spreading over Germany. Since then much has happened: the refugee march Würzburg-Berlin; the bus tour crossing western and northern Germany; the protest camp at Oranienplatz; the occupation of the Nigerian embassy (Berlin); the hunger strike at Bramdenburg Tör; the invisible daily struggle for a life with dignity at the German Lagers or at the omnipresent borders of fortress Europe; and the successful occupation of a school in Kreuberg (Berlin)…and it had an enormous price, often human lifes, but as they stated: We will not leave until our demands are met!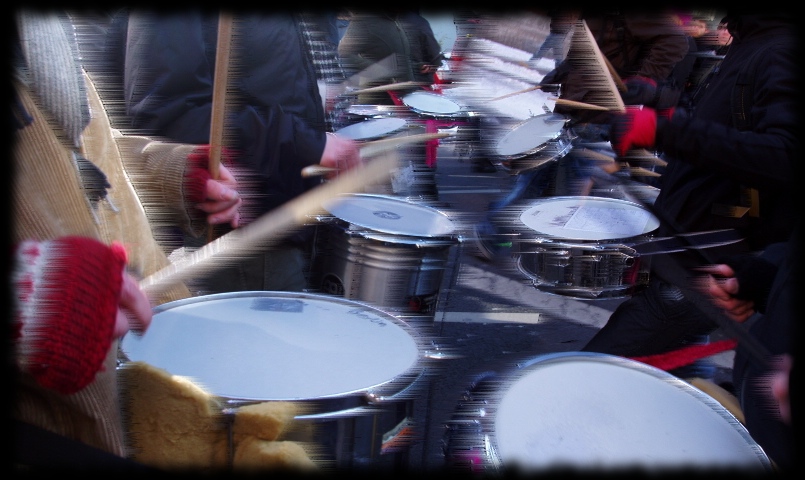 The European Union (recent Nobel prize) has projected the border regime all over Europe and beyond: the neighboring countries crossed by the migration routes kill the migration attempts and all over the EU territory the implementation of racist ID controls in our cities, on the trains, on the motorways, in the call centers, on the metro,… continue to target and suppress individuals due only to their color or birth place.
During the demo hundreds of international protesters gathered at Oranienplatz with anti racism and pro migration banners to begin the march to the Reichstag (Platz der Republik), chanting- 'No borders, No nations, stop deportation!' whilst speeches from first hand migrants were broadcast over the xx van tannoy in the center of the march and the Rhythms of Resistance samba band motivated the passing crowd of activists, students, refugees, and ordinary Berliners, witnessing the huge support for migrants and asylum seekers to Berlin.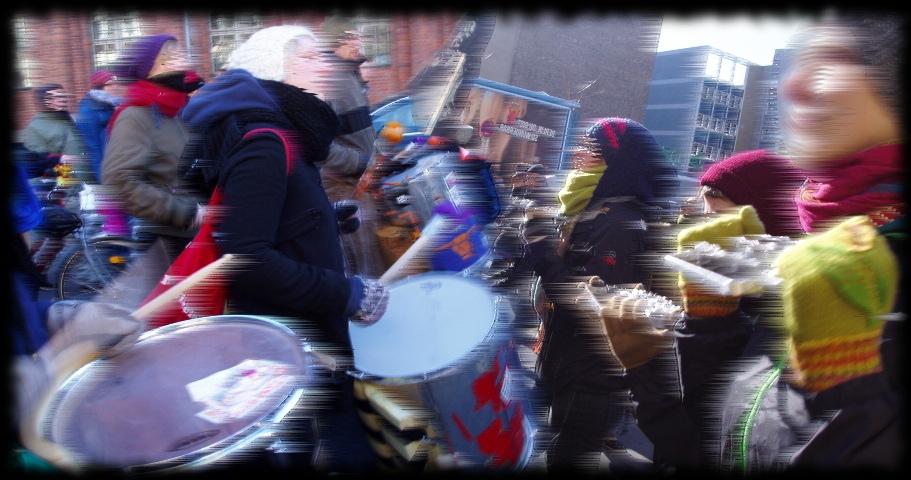 These are their demands: Abolition of Residenzpflicht nationwide! Closure of all refugee camps! Free choice of place of residence in the cities! Affordable housing for all! Stop the deportations! No tolerance of Duldung! Equal rights and self-determined participation in all social life!
and these are their hallmarks: No one is illegal! Everyone will stay! Abolition of Dublin II and Frontex! Tear down all borders! Abolish racist and exluding laws!